Just a couple...
a couple of old friends!

When Dave Satterwhite and Pat Radke were newly minted college grads, the two younger men would hang out and goof around, watching seminal, late nite "alt-comedy" shows and listening to Cartney's Wings. As years went on, they descended into "extracurriculars," all while continuing to hone their craft of the written stage. Soon, they were both dying and in need of a change.
Today, Satterwhite and Radke are, indeed, a change, and what of it.
The kindly titled Just Chilling was a sold-out hit with home video for proof. The follow-up, Death Is So Much Worse, was also good. If not brief.
But who would've thought?! A newer show during the sickness?! Hark! That's right, Preferences was our very first teletheatre presentation (that means online)!
The film version - and highly superior director's cut - are now available to stream in our Vidéothèque!
Nealshow Productions kindly presents fear, laughter and good health to the theatre stage.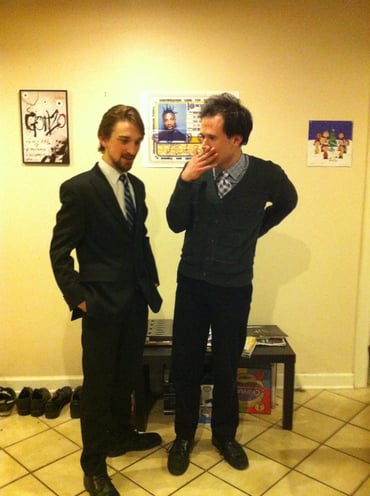 ([credit redacted], ca. 2013)
Our Great Shows
Preferences - 2020, a teletheatre presentation
Death Is So Much Worse - 2020 at Cornservatory
Just Chilling - 2019 at Cornservatory
An Other Slice - 2017 at Voice of the City
The Right Amount of Tequila - 2016 at Gorilla Tango Theatre
Camping: the Musical! - 2015 at Gorilla Tango Theatre
My Dinner with Music - 2014 at Gorilla Tango Theatre
My Boy - 2014 at Gorilla Tango Theatre